The Application Process
Global challenges in the boundary layer between academia and policy implementation – that is what the IUFRO World Congress is all about! The Vice Chancellor of the Swedish University of Agricultural Sciences decided during 2016 that SLU should coordinate the Swedish bid for the IUFRO WC 2024.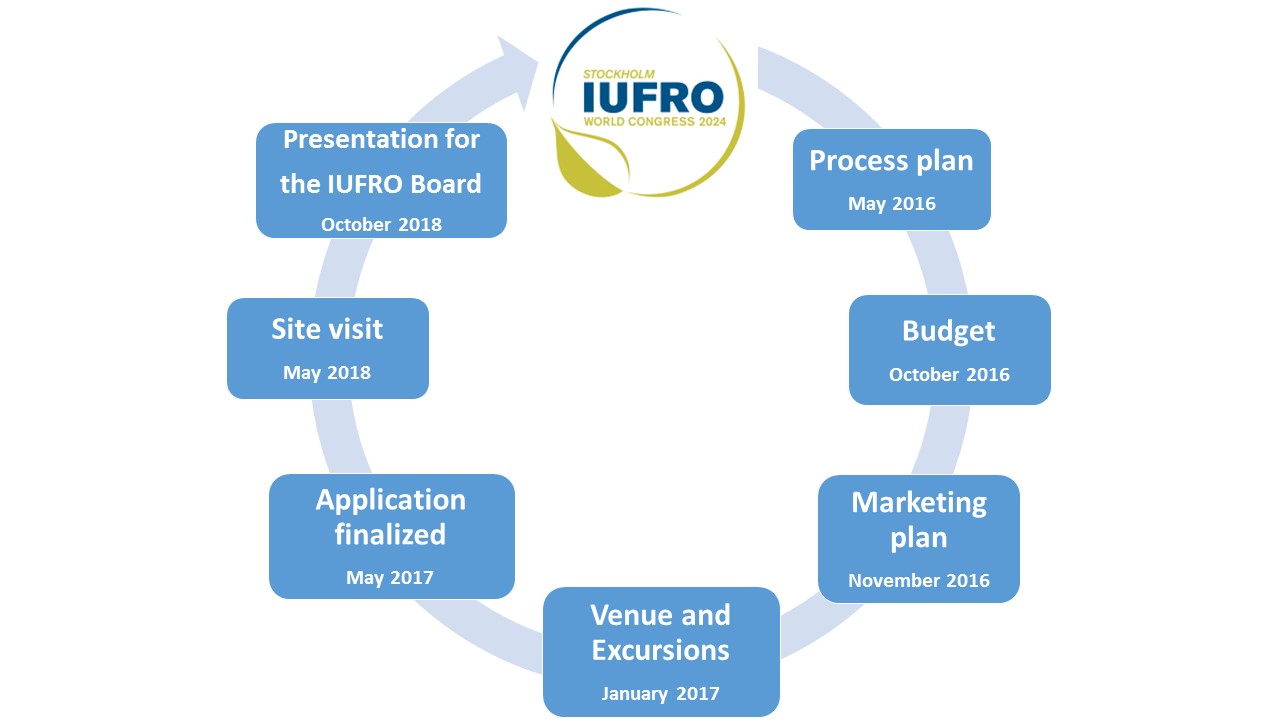 Nordic and Baltic countries collaborate
An extensive application process takes place every 5th year.
A strong dialogue takes place with scientists and stakeholders along the process. A national Swedish working group for IUFRO supports the work and stakeholders from the Nordic and Baltic neighbouring countries participate during the application process.
An entertaining program
The congress includes one week with knowledge exchange, networking and excursions in Sweden.
Post excursions to our Nordic and Baltic neighbouring countries will make an important contribution to the congress program.
Experienced and dedicated excursion organizers are willing to open a dialogue about global trends and experiences from the Nordic forestry model.
All together this includes a variety of landscapes, forest management systems, industries and stakeholders.
Governmental support
The Nordic countries play an active role in international cooperation on forest issues and see great potential in forests, both at home and abroad. The Nordic Council of Ministers (Ministers of Agriculture and Forestry Affairs) welcomes the application to arrange the IUFRO World Congress 2024 in Stockholm.
The budget is strongly supported by the Swedish Government and this bid secures that the developing countries has a strong representation during the Congress. The government support shows the need for a higher international Swedish profile – In accordance with the national forest program!
Experiences from our previous application, coordinated by the Think Tank for International Forestry Issues, gave us a strong platform to aim for an absolute top ranking according to the IUFRO's criteria – and this was also in line with IUFROs final assessment of the Nordic bid!
The Swedish University of Agricultural Sciences
The Swedish University of Agricultural Sciences (SLU) are highly ranked among Life science universities.
The academic production is significant with ca 1200 scientific publications/year and 100 PhD exams/year.
The forestry research is world leading in several scientific fields.
The beautiful city of Stockholm
Stockholm is ranked as one of the top congress cities in the world.
The venue Stockholmsmässan congress centre is well known and of course highly ranked.
The conference will be held during the best time of the year, in the middle of the light Nordic summer, with an excellent variety of hotels with a high standard, but still with different price levels.
The gala dinner in the city hall
We are looking forward to invite delegates to the gala dinner in the beautiful City Hall of Stockholm in 2024.